You can also enhance your cleaning with essential oils!
Essential oils can be diffused to freshen the air, naturally deodorize any space, and enhance your cleaning products! Adding a few drops of essential oils such as Lemon, Pine, Purification®, Tea Tree and of course Thieves or Thieves Cleaner or your DIY cleaners is great way to improve your home cleaning.
These are some of our favorite oils to add to your cleaning routine. Tell us your favorite oils to clean with below!
Often found in cleaners and soaps, Lemon's citrus scent is an indispensable freshener in any home and is a cleaning must-have.
Lemon has an energizing and uplifting aroma.

It makes a great adhesive remover! Use a few drops to naturally remove stickers, labels and goo from surfaces!

Add a few drops to your laundry detergent or wool dryer balls for a pleasant, refreshing aroma.

Add a few drops of Lemon to your surface cleaning solution to clean your floors, surfaces and windows.

Add a few drops to your toilet bowl to keep the room smelling fresh. Pro tip: Put a few drops in the bowl before you go to keep the room smelling fresh. It's a game changer.

Make a toilet spritz by combining 15 drops of Lemon to a ½ cup of rubbing alcohol and add ½ cup of distilled water. Save it in a glass spritzer bottle. Keep it handy to spray toilets before using to avoid smells from filling the room.
Pine essential oil is steam distilled from the needles of the Pinus sylvestris tree, which originates in Austria, the United States and Canada.

Refresh your home with the rich aroma of Pine. This essential oil is a great addition to floor surface cleaners and creates an aroma reminiscent of fresh air and the outdoors.

It adds a clean, sweet scent to your home when diffused!

Add it to your Thieves Household Cleaner to mop your floors.

Combine Pine with water and spray it on carpet for a fresh smell after vacuuming.

Add a few drops of Pine to olive oil and Thieves Household Cleaner to shine your wood furniture and floors.
Purification (Get yours
HERE
)
Replace overpowering aerosol fragrance sprays with Purification. This blend is great to keep your home and laundry fresh.

Purification is a blend of six essential oils for the ultimate tool against odors: Citronella, Lavandin, Lemongrass, Rosemary, Myrtle and Tea Tree.

It creates a refreshing, bright scent that keeps you and your family happy and comfortable.

Add a few drops to the laundry to give your wash a great-smelling boost.

Place a few drops on cotton balls or wood clothes pins and stash them wherever necessary: the car, closets and drawers, air vents, shoes or even gym bags.

Create your own air freshener by mixing 5 drops of Purification and 2–3 drops of your favorite essential oil. Add a cup of distilled water into a glass spritzer bottle a nd attack offensive smells after cooking. You can also use it to freshen your linens.
Tea Tree (Get yours
HERE
)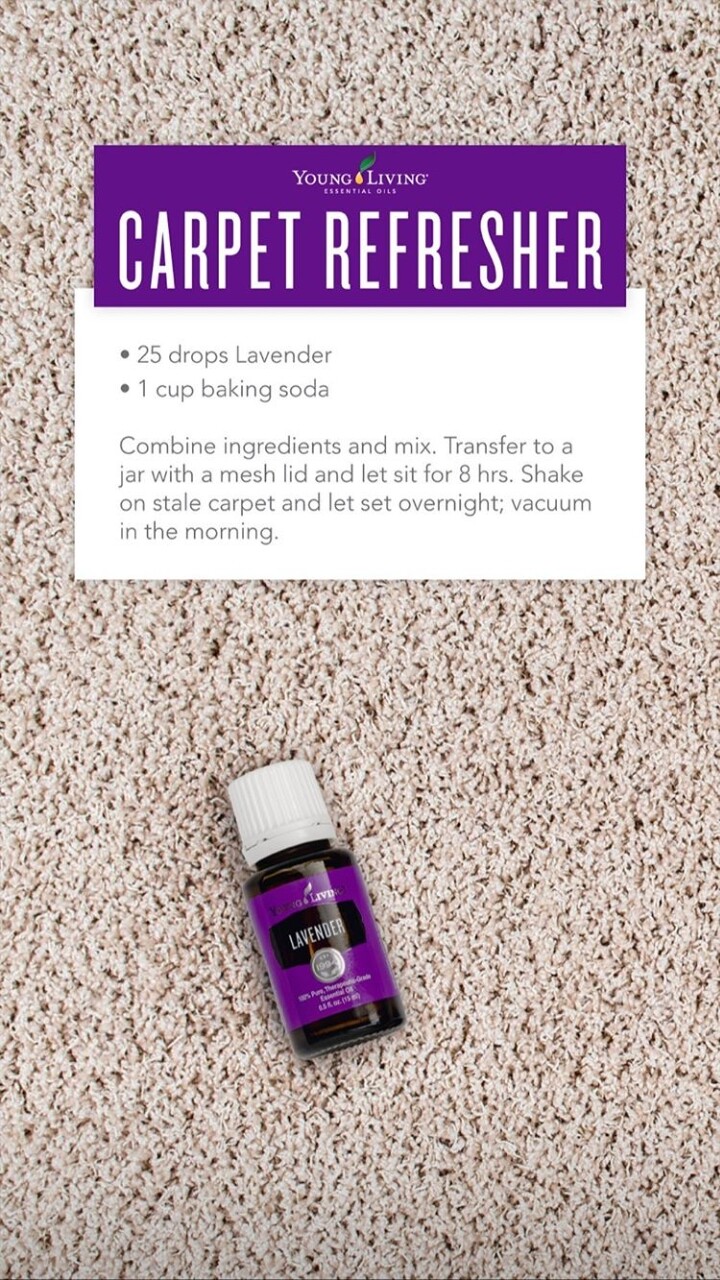 Tea Tree is best known for its ability to get rid of musky, undesired odors. Diffuse it anywhere that needs some refreshing.

Tea Tree is a great natural deodorizer.

Mix 5 drops of Tea Tree and 3 drops of Lavender with a cup of baking soda to make your own carpet powder. Sprinkle it over carpet, let it sit for 15 minutes, and then vacuum away!
Lavender (

Get yours

HERE

)
Lavender is also called the swiss army knife of essential oils, it has many benefits

Its known for its balancing and calming properties. Diffuse it anywhere that needs some calm down.

Mix it with Tea Tree (see above) with a cup of baking soda to make your own carpet powder. Sprinkle it over carpet, let it sit for 15 minutes, and then vacuum away!

Use it on your dryer balls


This blend is a powerful combination of Clove, Lemon, Cinnamon Bark, Eucalyptus Radiata, and Rosemary essential oils.

When diffused

, Thieves fills any space with a rich, spicy aroma.

Add a few drops to your dishwasher or dish water to thoroughly clean your dishes and eliminate odors.

Add a few drops of Thieves to a cotton ball and leave it resting on your air conditioning vent to infuse your room with its spicy, sweet aroma and eliminate odors.

Mix 1 part Thieves Household Cleaner to 3 parts baking soda to create a thick, deep-cleaning paste. Apply the mixture to desired areas and scrub thoroughly.
---
There are so many different ways to get started with the essential oils.
Just shoot me a question.
---
Have you thought about making a few changes to eliminate harsh chemicals from your environment but just didn't know where to start? Click on the link below to get access to my Simple Start to Natural Living!
* If you see links on my website material, they could be affiliate links where either I or someone else could earn commissions at no additional cost to you. Support small business entrepreneurs.