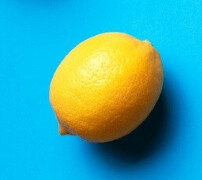 The many uses for Lemon essential oil:

When your kitchen smells like the ghost of dinners past, diffuse Lemon oil.

When a child's sticker leaves residue on your car window, you defy it with Lemon.

When you need a little more spring in your step, dilute Lemon with V-6™ oil and dab it on your wrist.

Life is full of Lemon moments; it's no wonder this essential oil is popular.

From brightened beverages to sparkling skin, here are 21 ways to use those little drops of liquid sunshine.

Say hello to Lemon essential oil, your new zesty friend!

Whether you're tackling indoor traffic or battling bad odors, Lemon essential oil's zesty aroma can shed sunshine on the situation. Its invigorating scent is like the perfect rush-hour playlist—light, bright, and energizing!




A little bit of Lemon oil goes a long way in creating a clean slate!




1. Snuff out stinky smells by placing a Lemon-infused cotton ball in the refrigerator, bathroom drawer, or trash can.

2. Fight oil with oil—for real! Battle greasy stovetops, counters, and dishes with a mix of Lemon and vinegar. Mix 20 drops with 1 cup white vinegar in a 16-ounce spray bottle and fill to the top with water.

Spray those sticky surfaces and wipe clean with a damp cloth.

3. Infuse your laundry with the citrusy freshness of a lemon grove by adding 5-8 drops to the rinse cycle when washing clothes and towels.

4. Use Thieves® Household Cleaner [lemon is a main ingredient!] to get every part of your home sparkling.

5. Banish hard-water buildup by tackling it with a paste made of baking soda, a little bit of water and Lemon essential oil.

6. Dreaming of stainless steel without syrupy fingerprints?

Add 3 drops Lemon to a damp rag and polish those appliances to perfection!

7. Did you or a loved one sit in some sap while on your great-outdoors getaway?

Combine a drop of Lemon with a drop of V-6 oil and work it into that sticky spot.