Simple steps to create your very own perfumes and colognes.
And to make it even better, the steps you learn are going to be easy to repeat when it's time to refill or try something new!
Did you know that wearing perfume or cologne is a confidence booster?! People say they feel more confident when they have a killer scent on. Some people even feel 'naked' when they forget to put it on during their daily routine.
No matter how often you wear perfume or cologne - It's time for you to sniff with confidence.
Using your essential oils to create a personalized scent not only allows you to smell amazing - it ensures you are enjoying a fragrance that is safe for your body and those around you.
Oh ... and by the way, I would love to know...
>>>
Tell me ... im curious ...
👉🏻 are you a #DailyWearer or an #OccasionalSpritzer?
I am definitly a daily wearer! 😂
Not all essential oils are created equally. It is very important to use high quality products
But how can you identify high quality essential oils ?
Here are 9 quality parameters to make the decision easier for you:

plant material that is grown on corporately-owned farms or carefully vetted partner farms (that you can actually visit.

sustainable farming and sourcing practices, providing the purest oil

great care taken to preserve and protect natural resources

hand-weeded fields with ZERO use of pesticides

oils that retain all their natural constituents and therapeutic properties

use of food-grade distillers with state-of-the-art design and distillation methods

low pressure and low temperature distillation, without the use of solvents or synthetic chemicals

rigorous testing on each batch by internal labs and third-party facilities

oils that are carefully reviewed through

every

step of production in order to meet or exceed industry safety and purity standards
These steps bring the products to a state beyond organic certification!!!
It is also very important that
if the oils do not meet these high standards they are rejected and will
not
be bottled and sold. Buy products from companies that would rather have something go out of stock than ship an inferior product. It's rare to find a company with such high standards but they do exist.
---
Let's start at the very beginning. Every quality perfume or cologne needs a good base. This allows for the fragrance to remain intact throughout the life of a perfume or cologne.
You want it to have a nice shelf life so you can enjoy it for as long as possible.


You'll want to choose a carrier with little to no scent.
For spray-on fragrances:
>>>>>
Use a clear, scentless solvent like
vodka or witch hazel
. This helps the essential oil distribute evenly throughout the bottle.
For roll-on fragrances:

>>>>>
Use an unscented carrier oil like
jojoba or almond oil
.
If you choose to use water as your base, which you can, be sure to choose distilled water. The minerals and impurities have been removed so it's a better option to use in sprays. However, just know that vodka or witch hazel would allow the essential oils to be more evenly distributed.
Depending on the size of the bottle you're using - either a spray or roller bottle - you will want to loosely follow an 80:20 ratio - Use a carrier oil or solvent for 80% of the spray and an essential oil blend for the remaining 20%.
Blending by Notes
Let's start with some simple guidelines to help you build a personalized blend of fragrances using your oils.
Essential oil fragrances are classified as "notes".
Just like music, you want all the notes - top, middle, and base notes -
to harmonize, making a beautiful "sound."
The Top Note is the scent your nose detects first. It is the "first impression" scent, usually a citrus or herb.



The Base Note lasts far beyond the other notes. It's the scent that appears once the others have evaporated. It creates a lasting impression




The Middle Note is the scent detected 10-45 minutes after applying and can last several hours on the skin. It is often referred to as the "heart note", the one noticed after the top note is gone. It's typically warm and well-rounded.

To summarize, the Top Note is the introductory scent that catches your attention. The Middle Note is the core of the aroma - the smell that gives body to your fragrance. And the Base Note is what blends all three together.
Which is creating a quality smell that lasts for hours without fading.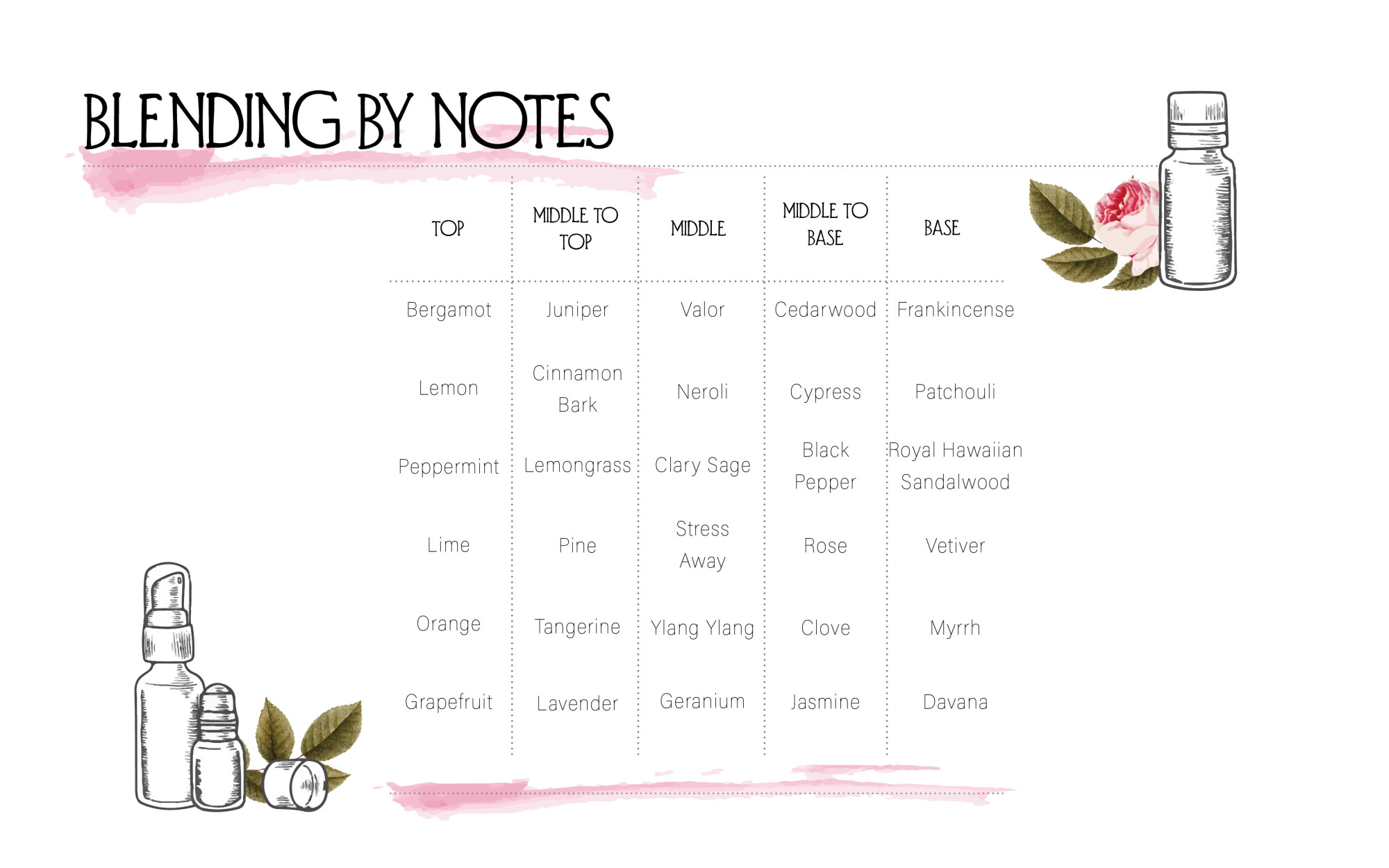 Use this quick table to guide you as you start blending notes. Start by choosing 2-4 oils in each row to work with; add as much as your nose likes! There aren't any rules to blending. These are your oils; just do what smells good to you.
And if you're not ready to create blends, don't worry!
We'll go over some pre-made blends later.
Be Safe
It's important to mention that oils are potent and careless use of them can cause harm. Here are a few general safety 'rules' to keep in your back pocket.
Diluting oils is the number one way to protect yourself from accidental irritation; following the 80:20 dilution is a great way to start, especially if you are more sensitive in nature to begin with. If you feel like you need your oils diluted less or more, go ahead. It's totally up to you!
The very best art is that you never have to worry about overwhelming those around. We have all experienced someone that took a bath in convenience store perfume or cologne.
Some essential oils cause photosensitivity due to the compounds found within.
Lemon, Lime, Grapefruit, Orange, Bergamot, Tangerine,
Peace & Calming,
Stress Away,
Citrus Fresh,
Gentle Baby, and
Joy.
Always check the label to see what cautions are associated with the oil you're using.
Don't let that keep you from enjoying citrus oils in your DIY perfumes and colognes, however. Your essential oils are diluted in the recipes you're creating, but just to be safe - spray or roll on those perfumes in a place where the sun doesn't shine or simply cover it with clothing if you plan to spend a lot of time in direct UV rays.
How exciting…now what?
You want to start blending? … I get that :) Thats what I thought …
Here are your options:
You are getting started right away, go into your "lotions & potions kitchen" and start experimenting …

OR

download my collection of well blent recipes for you to create your own RollOn, Spritz or BodySpray

You will find recipes with some wild perfume recipes for HER like 'Kiss in the Dark', the 'Citrus Sunrise', or the 'Bohemian Wildflower', And also manly Cologne blends for HIM like 'WildWood' and 'Freshman'
I also have some pretty labels to print out …
Have fun with it, trust your intention while blending :)
... and let us know in the comments your favorite blend!
---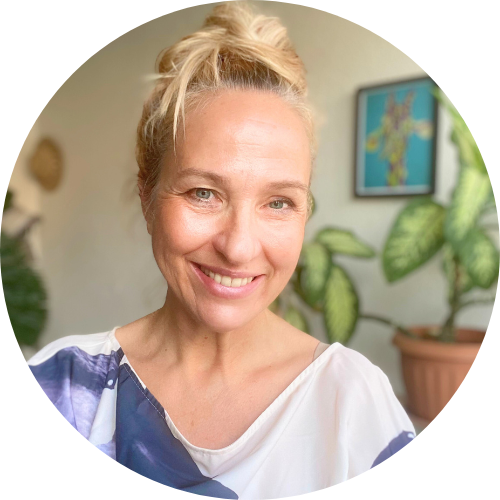 Discover Your Next Step!
Take a few moments to complete our brief questionnaire and
unlock
the perfect path towards your wellness goals.